INDUSTRY PARTNERS
We proudly offer fine cabinetry with the finest craftsmanship to enhance your project with quality materials and workmanship. Quality construction is the hallmark of our partners Christiana Cabinetry, Cuisine Idéale, Wood-Mode, and Danver Stainless Outdoor Kitchen Cabinetry. Fresh Air Designs offers exceptional countertop manufacturers with hundreds of choices in natural, unique stones, engineered stones, butcher block wood tops, and a variety of other materials.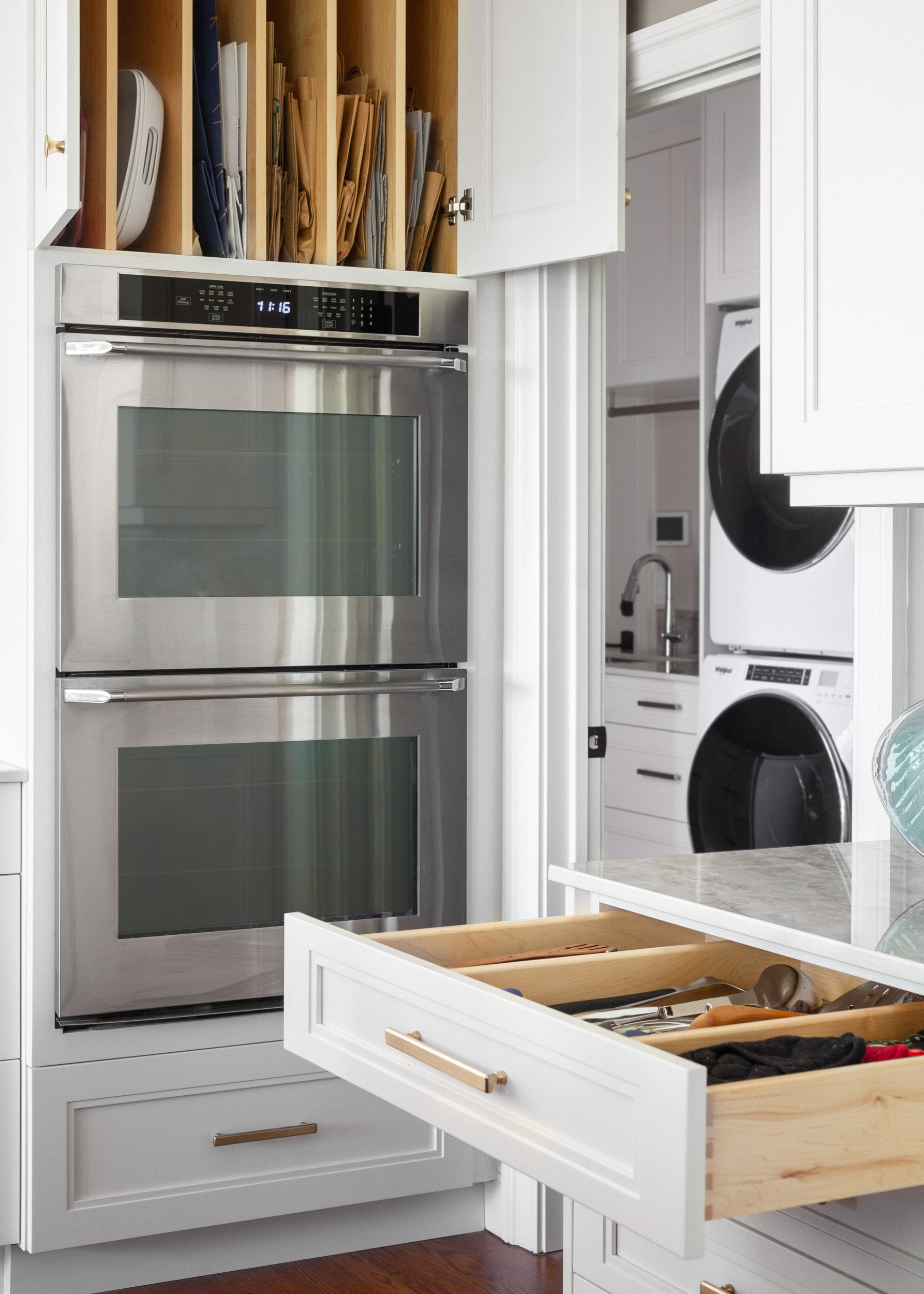 Christiana Cabinetry
Started in Christiana, now located in Atglen, a borough of historic Chester County, Pennsylvania, this family-owned business began as a small "work to order" furniture and cabinet shop in 1976. In nearly 40 years since the first cabinets were built, Christiana has grown by providing uncompromising workmanship, quality products, and dependable customer service. They pride themselves in sourcing the best American-made wood and hardware for each custom cabinet creation.
Founder Gerald Metzler began this company after leaving his father's farm in 1976. Farming taught Metzler that basic hard work produces a fruitful harvest and an immense feeling of accomplishment. This background inspired Metzler to infuse his company with strong work ethics and a love for the land it was built upon.
Each custom cabinet is created specific to order, designed to a client's specific desires rather than from predetermined styles. With every cabinetry product created, environmentally responsible practices are taken into account by utilizing safe materials in construction. All Christiana products are free of added formaldehyde and other harmful chemicals in an effort to actively reduce their carbon footprint.
Christiana manufactures only for a network of authorized Designer Showrooms making their products exclusive and one-of-a-kind. They are committed to upholding simplistic work values while retaining the same spirit of dedication to service.

Cuisine Idéale
Cuisine Idéale has been designing and manufacturing semi-custom cabinets for over 45 years. At the forefront of innovation and creative design, it's this kind of expertise that allows Cuisine Idéale to create designs for each client's lifestyle. Cuisine Idéale prides itself on remaining updated on the latest trends of design by constantly monitoring the market for new design and technology. This combination of design and the best new products places them at the forefront of worldwide cabinet companies. Founded in 1971, Cuisine Idéale expanded its production to the United States in the early 1900's. Located in Sherbrooke, Canada, Cuisine Idéale works diligently internally to coordinate distribution of their products in a timely and efficient manner to their clients in the United States and Canada. Family owned and operated since its founding, Cuisine Idéale maintains an easy flow to production and friendly customer service. They identify themselves as in touch with the most current trends and fashion with a willing attitude to grow as a company. Cuisine Idéale is committed to their products and their presentation of the latest fashions to their clients. Their constant adaptations and evolution allow them to remain current and trending in the cabinet industry. With massive growth already in the past 45 years, Cuisine Idéale is set on progressing further and pushing the boundaries of style to new heights.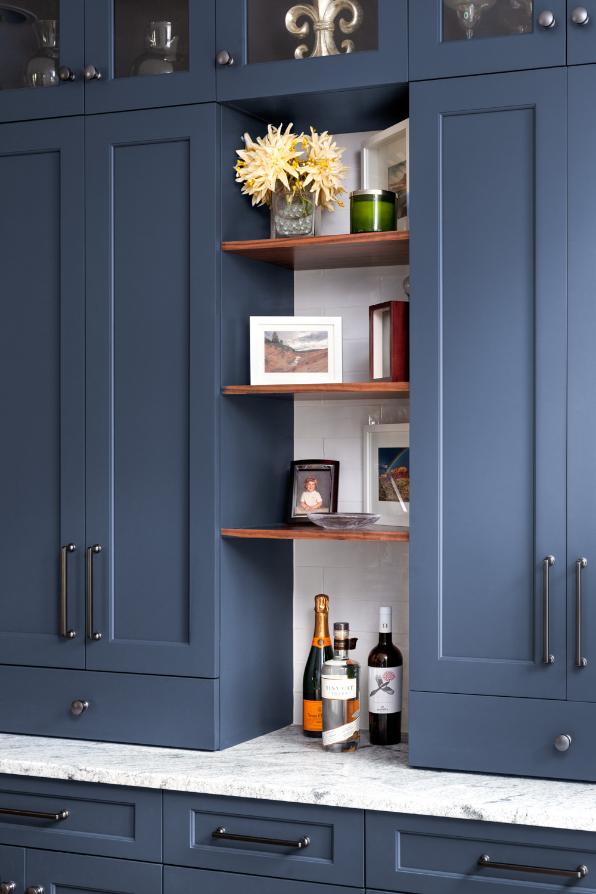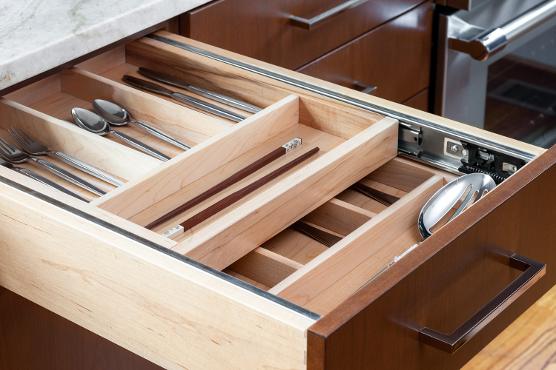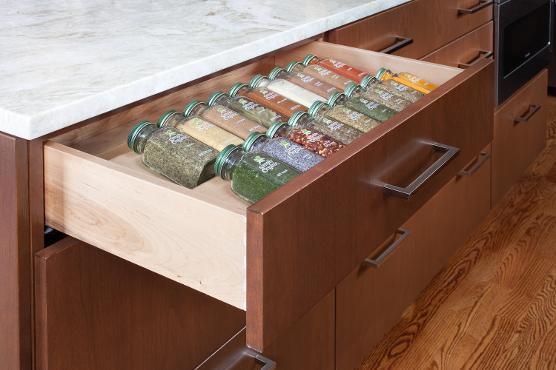 Wood-mode, llc.
Founded in a small Pennsylvania lumber mill in 1942, this custom cabinet company is built and constructed in the USA. Moulded with care by individual wood craftsman at every stage, quality is ensured from the first lumber selection and milling to the final finish and assembly.
Every cabinet created is built with care, precision, and intended for a lifetime of use. The custom WoodMode 84 and 42 lines will be offered as well as the Brookhaven semi-custom lines. There is a diverse collection of ever-evolving door styles and finishes inspired by classical motifs from around the world as well as our own national heritage.
Wood-Mode, LLC. is committed to the pursuit of responsible environmental policies and practices. Wood-Mode has been certified by the Kitchen Cabinet Manufacturers Association (KCMA) as meeting the standards for its Environmental Stewardship Programs (ESP). This program recognizes manufacturers who use environmentally friendly materials and production processes. To qualify for and maintain certification, manufacturers are evaluated annually on compliance in five categories, including air quality, product resource management, process resource management, environmental stewardship, and community relations, as well as energy conservation and recycling programs.

DANVER STAINLESS OUTDOOR KITCHENS
Danver Stainless Outdoor Kitchens has been manufacturing stainless steel cabinets for outdoor kitchens since the late 1990's. Danver showcases color, style, and design and inspires entertainment, culinary creativity, and leisure living in today's homes. Danver offers frameless, European styled powder coated 304-grade stainless steel custom cabinetry designed and engineered for outdoor kitchens, transition rooms, rooftops, and other spaces where durability is important. Both brands offer a variety of door styles each with designer color options and built to order, ensuring the style, design, and color are specific and unique to each project.
Brown Jordan is the world's finest maker of innovative, meticulously designed and exceptionally executed outdoor furniture and accessories. Since it's founding by Robert Brown and Hubert Jordan in Pasadena, CA in 1945, Brown Jordan has offered best in class products for refined, relaxed and luxurious outdoor living. Known for producing iconic, award-winning designs, Brown Jordan has maintained the gold standard in outdoor furnishings for the past 70 years.
Brown Jordan Outdoor Kitchen Cabinetry powder coat palette is an exact match to the established Brown Jordan furniture, tying the outdoor color scheme together seamlessly.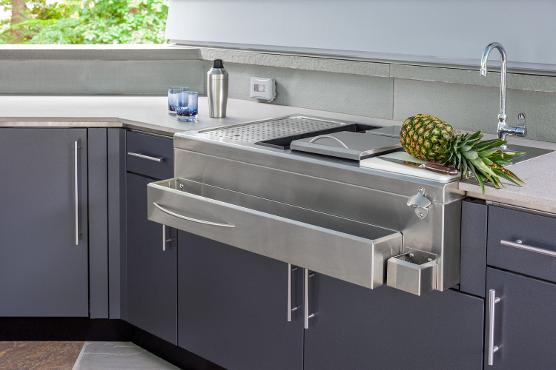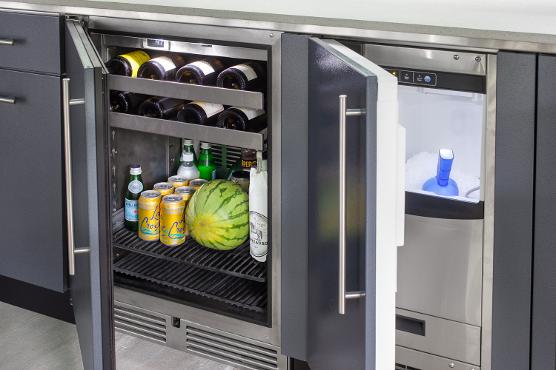 © Copyright Fresh Air Designs